IAR Embedded Workbench for Renesas RL78
IAR Embedded Workbench for Renesas RL78 종합 개발 툴체인에서는 하나의 화면, 하나의 툴박스로 막힘 없는 업무 흐름을 구현할 수 있습니다.
01
사용자 친화적 IDE
프로젝트 관리 툴 및 편집기가 포함된 통합 개발 환경. 여기에는 링크 및 라이브러리 도구, RL78 제품군의 모든 장치에 대한 구성 파일, 프로젝트 및 코드 템플릿 예, 완전히 통합된 C-STAT 정적 분석이 포함됩니다.
02
강력한 빌드툴
IAR C/C++ 컴파일러는 RL78에 대해 매우 최적화된 C 및 C++ 컴파일러입니다. 재배치 RL78 어셈블리 및 런타임 라이브러리를 제공합니다.
03
종합 디버거
C-SPY Debugger는 RL78 시뮬레이터가 포함된 포괄적인 디버거로, 하드웨어에 대한 RTOS 인식 디버깅 및 광범위한 에뮬레이터 지원을 지원합니다.
04
통합 코드 분석
IAR Embedded Workbench for RL78은 애드온 제품 C-STAT를 통해 통합 정적 코드 분석을 제공하며, 코드 품질을 보장하고 MISRAC:2012와 같은 표준을 준수합니다.
최신 배포판
IAR는 지속적으로 툴 업데이트 및 신규 기능 추가, 신규 기기 지원, 기능 확대를 통한 제품 개선 노력을 기울이고 있습니다.
Version 4.21
RL78/G23 microcontroller group support
The RL78/G23 group of microcontrollers is now supported.
IAR Build Tools for Linux
A new product, IAR Build Tools for Renesas RL78, is available. It requires a separate product license and is distributed as a Debian package for Ubuntu containing the IAR C/C++ Compiler, IAR Assembler, Linker and library tools, C-STAT, IARBuild, and runtime libraries. Get product info
C-STAT enhancements

Extended coverage of CERT C
The static analysis tool C-STAT has extended its coverage of the SEI CERT C Coding Standard. The SEI CERT C Coding Standard's goal is to provide rules for developing safe, reliable, and secure systems in the C programming language, with support for C11 constructs. C-STAT covers all rules in the different CERT C sections listed on the CERT C wiki as of January 2020, with the exception of the API, CON, POS, and WIN sections, which are not applicable to IAR Systems products, yielding a total of 90 covered rules.
Link analysis trace information
The link analysis messages now display trace information when relevant. For checks looking for conflicting symbol names, all conflicting declarations are now listed in the trace information instead of each pair of conflicts being described in a separate message. This might lead to fewer reported messages for the same number of found issues.

Renesas Smart Configurator included
The Renesas RL78 Smart Configurator V1.0.1 has been included.
Read complete release notes
Version 4.20
C18 support
The default Standard C is now C18 (ISO/IEC 9899:2018).
C++17 support
The compiler now supports almost all C++17 features. The C++ library supports C++14 with no C++17 additions.
Improved Source Browser
The following improvements have been made to the Source Browser:
The source browser data is generated faster as it is now running as a separate thread.
New Source Browser Log window.
Status indicator in the status bar.
Enhanced feedback in case source browsing data cannot be generated.
EZ-CUBE2 On-Chip Debug Emulator support
The EZ-CUBE2 On-Chip Debug Emulator, primarily targeted for the Chinese market, is now supported.
E2 emulator power debugging in C-SPY
The E2 emulator allows you to measure the dynamically changing current drawn by the user system. This is visualized as a graph in the C-SPY Timeline window as well as a list of time-current value pairs in the Power Log window. It is also possible to stop execution when the current goes above or below a certain user-defined threshold value.
Documentation Comments support in the editor
The editor can distinguish comments that start with /**, /*!, /// or //! as Documentation Comments. Inside a Documentation Comment, the editor can recognize keywords that begin with \ or @. If the keyword is recognized as a doxygen keyword, the Documentation Comment will appear in tooltips and parameter hints for variables and functions. See IAR Embedded Workbench IDE Project Management and Building Guide for more information.
Updated user documentation
The IDE Project Management and Building Guide, C-SPY Debugging Guide and C/C++ Development Guide have been updated to reflect the product changes.
Read complete release notes
나에게 맞는 라이선스는?
IAR Embedded Workbench는 다양한 라이선스 모델을 통해 고객사의 수요에 따라 유연하게 이용하실 수 있습니다. 당사의 고객 지원 및 업데이트 계약과 더불어, 고객은 다양한 시간대에 걸쳐 고객이 필요하는 지원을 여러가지 언어로 제공받으실 수 있습니다. 문의 및 견적 요청 시 보다 자세하게 상담 드립니다.
이 제품에 대해 자세히 알고 싶으십니까?
제품 문의에 대한 모든 답변이 준비되어 있습니다. 경험을 최대한 활용하여, 학습 섹션과 고객 포털 마이 페이지에서 다양한 정보를 찾을 수 있습니다.
견적 문의 하기
견적 양식에 대한 이 요청을 완료하시면 당사의 영업팀에서 귀사의 요구사항에 맞춘 가격 제안을 위해 귀하에게 연락을 드릴 것입니다. 귀하의 요청을 기다리겠습니다!
벤치마크 결과
IAR Embedded Workbench for RL78의 정교한 최적화 기술은 매우 작고 빠른 코드를 생성합니다.
Code size benchmark test
For this benchmark we took real customer applications and tested for size. The benchmark compares the total size of linked code and constants between code from IAR Embedded Workbench and Renesas CC.
In total for the tested applications, IAR Embedded Workbench generated 28 % smaller code than Renesas CCRL.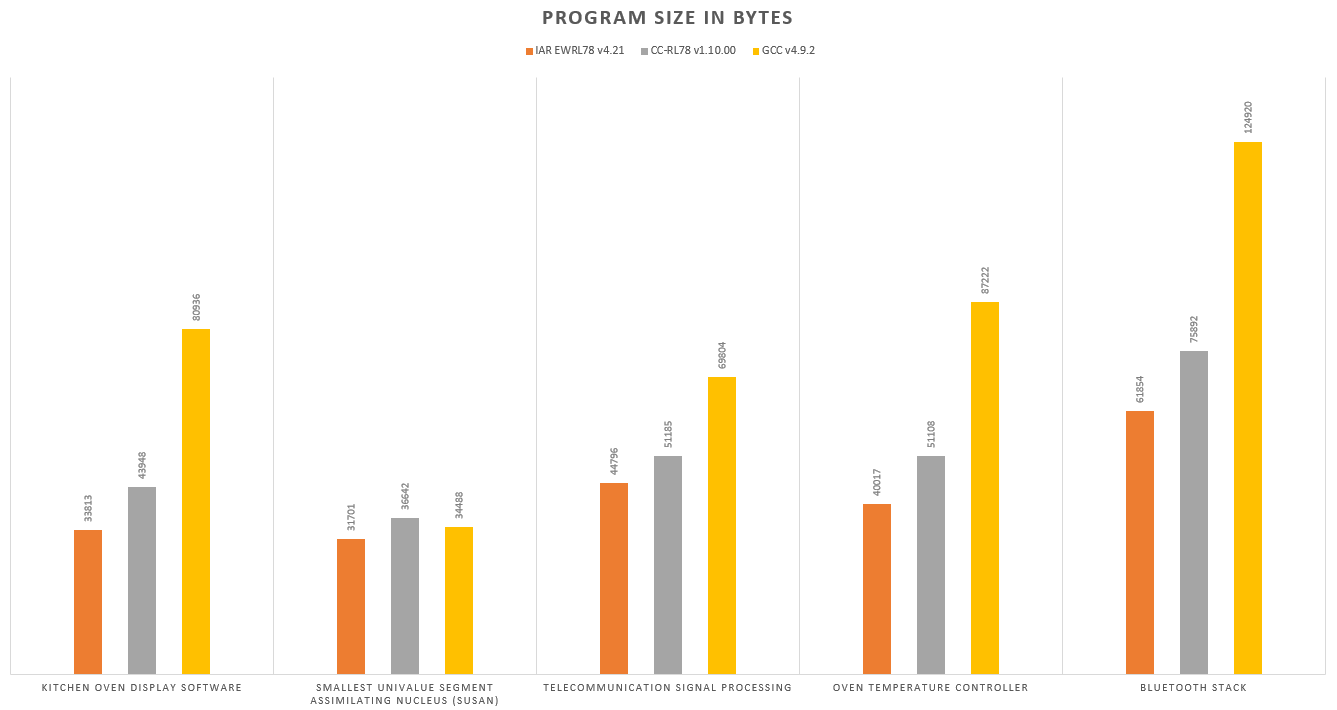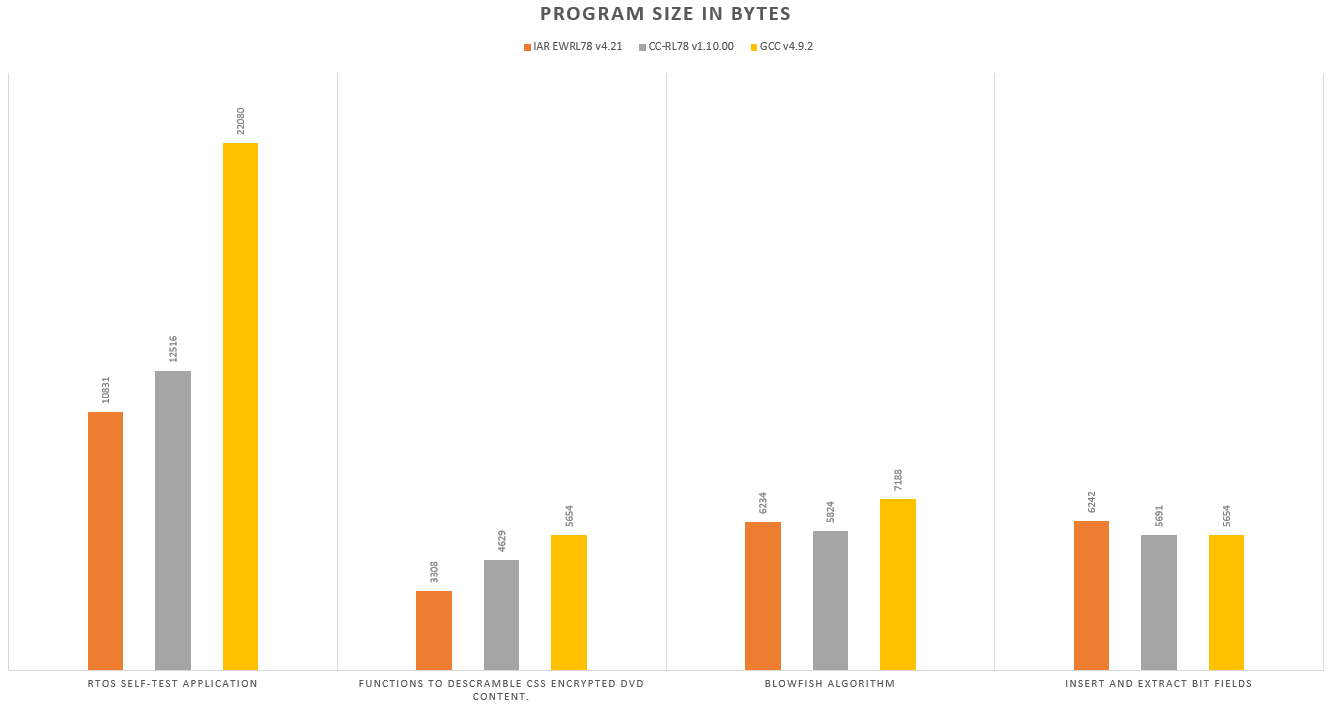 Tools and options for RL78 code size benchmark
This is a code size test on real customer applications where the size of linked code + constants has been compared. The test was performed with the following tools and options:
CC-RL v1.10.00
ccrl -cpu=S3 -c -dbl_size=4 -dev=DR5F104PJ.DVF -g -Osize -Oalias=ansi -Osame_code
IAR EWRL78 v4.21
iccrl78.exe --core S3 --code_model near --data_model near --near_const_location rom0 -e --debug -Ohz --double=32 --no_scheduling
GCC for Renesas RL78 v4.9.2
rl78-elf-gcc -MMD -MP -Os -ffunction-sections -fdata-sections -g -mg14 -mrelax -mmul=g14 -c -x c

| | |
| --- | --- |
| Kitchen oven display software | kitchen_oven_display |
| Smallest Univalue Segment Assimilating Nucleus (SUSAN) | susan |
| Telecommunication signal processing | gsm_efr |
| Oven temperature controller | temp_display |
| Bluetooth stack | bt_stack |
| RTOS self-test application | RTOS_test |
| Functions to descramble CSS encrypted DVD content. | decrypt |
| Blowfish algorithm | blowfish |
| Insert and extract bit fields | bittest |
무료 평가판 다운로드
IAR Embedded Workbench for Renesas RL78 - 평가판
평가용 라이선스는 무료이며 소프트웨어를 사용하여 효율성과 사용 편의성을 평가할 수 있습니다.
다운로드를 클릭하면, 라이센스를 얻기 위한 등록 요청 메시지가 표시됩니다.
평가용 라이선스와 관련하여 다음 사항에 유의하십시오.
평가용 라이선스 기간은 14일입니다.
런타임 라이브러리의 소스 코드는 포함되어 있지 않습니다.
MISRA C는 지원하지 않습니다.
기술 지원이 제한적입니다.
제품 개발 또는 상업적 용도로 사용할 수 없습니다.
Kickstart 라이선스인 사이즈 제한의 평가용 라이선스와 관련하여 다음 사항에 유의하십시오.
코드 사이즈 16Kbytes 제한.
런타임 라이브러리 소스 코드는 포함되지 않습니다.
MISRA C는 지원하지 않습니다.
기술 지원이 제공되지 않습니다.
다운로드
사용자 가이드 및 기술문서
Hardware debugging and RTOS support
Hardware debugging support
Renesas E2 Emulator
Renesas E1 Emulator
Renesas E2 Emulator Lite
Renesas EZ-Cube
Renesas IECUBE
Renesas E20
Renesas TK
RTOS support
Micrium μC/OS-II
OSEK Run Time Interface (ORTI)
embOS
Express Logic
FreeRTOS
CMX
Each RTOS plugin installs a number of new windows in C-SPY, most importantly the task or thread list windows where task-specific breakpoints can be specified and task-specific steps executed. Different inspector windows display the contents of the internal data structures of the RTOS such as timers, queues, semaphores, resources and mailboxes.
언어 및 표준
IAR C/C++ 컴파일러는 C/C++ 프로그래밍 언어의 다양한 방계 언어를 지원하며, 임베디드 프로그래밍을 대상으로 하는 여러 확장 언어도 지원하고 있습니다. (모든 구현 대상에 대해 전체 언어가 지원되는 것은 아니므로 유의 바랍니다.) 각종 표준과의 호환성 담보를 위해, 컴파일러 내 특정 확장 기능을 비활성화 시킬 수도 있습니다.
대부분의 인기 있는 디버거 및 에뮬레이터와 호환되는 광범위한 산업 표준 디버그 및 이미지 형식이 지원됩니다. 여기에는 해당하는 경우 ELF/DWARF가 포함됩니다.
ISO/ANSI

C/C++ 표준 준수
IAR C/C++ 컴파일러는 다음과 같은 C 프로그램 언어의 단독 구현 표준을 준수합니다:
INCITS/ISO/IEC 9899:2018

(

별칭

:

C18

,

최신 버전만 해당)

.

컴파일러는 모든

C++17

기능을 지원합니다.

C++

라이브러리는

C++17

추가 기능을 전혀 포함하지 않은

C++14

을 지원합니다

. (

최신 버전만 해당)

.

ISO/IEC 14882:2015

(

별칭:

C++14

)

INCITS/ISO/IEC 9899:2012

(

별칭:

C11

)

ANSI X3.159-1989, known

(

별칭:

C89

)
IEEE 754 표준
IAR Embedded Workbench는 플로팅 포인트 산술 계산 관련 IEEE 754 표준을 지원합니다.
MISRA C
MISRA C는 MISRA(Motor Industry Software Reliability Association)에서 개발된 C 프로그래밍 언어 소프트웨어 개발 표준입니다. 해당 표준의 목적은 임베디드 환경 내에서의 코드 신뢰성, 포터빌리티, 안전성 확보입니다. 특히, ISO C를 통해 프로그래밍 되는 시스템을 주 대상으로 합니다.
MISRA C의 첫 표준인 "차량 기반 소프트웨어 상의 C 언어 사용 지침"(Guideline for the use of the C Language in vehicle-based software)는 1998년에 최초로 작성되었습니다. 이어, 2004년 대폭 개정된 제2판이 발표되었으며, 조항 번호의 재책정도 이때 이루어졌습니다. 추가적으로 MISRA C:2012에서 기능이 대폭 확장되었으며, MISRA C++:2008에서도 C++ 표준 내 불안전한 코드 구조체를 식별하는 등의 개정이 이루어졌습니다.
IAR Embedded Workbench에서는 C-STAT 애드온을 포함하여 MISRA C:2004, MISRA C++: 2008, MISRA C:2012 상의 표준 부합 여부를 확인할 수 있습니다.
시험 검증
당사에서는 또한 다음과 같은 상업적 시험 패키지를 사용, 표준과 대비하여 당사 툴의 성능을 검증하고 있습니다:
P

lum Hall Validation

테스트 패키지

(ISO/IEC C

표준 부합 여부 점검)

P

erennial EC++ Validation Suite (

C

++

표준 부합여부 점검)
D

inkum C++ Proofer

를 통해 라이브러리의

C/C++

표준 부합 여부 확인 및

C++

표준 대비 당사

STL

구현 결과 점검.
당사는 또한 시판 패키지 외에도 당사 내부 테스트 패키지를 통해 신기능, 회귀 시험, 에러 수정 시험 등을 실시하고 있습니다.