IAR Embedded Secure IP
Late-stage embedded security enablement
Prevent counterfeiting with IAR solutions
1
Anti-cloning
Enable unique identification for both software applications and device hardware. This helps to prevent counterfeiting while also providing encryption for your manufacturing processes.
2
Active IP protection
Ensuring the security of your intellectual properties such as applications, libraries, and other assets by providing encryption that guarantees safe device access.
Counterfeiting damages brand reputation
End user benefits
1
Flexible security design at late stage development
Developers can enable security functions even after they have finished the previous development stage. They do not need to change previous design and code.
2
Less memory requirements to input code
Small-footprint devices with a tiny memory is enough for developers to enable security functions.
3
Compatible with 3rd party libraries and secure boot management mechanisms
If developers already have 3rd libraries and secure boot management mechanisms, they do not need to change but directly apply security functions with IAR.
4
Secure manufacturing with zero-trust
Device brands can secure all programming processes even if they choose zero-trust manufacturers to execute device provisioning.
Easy code and applications migration across platforms
For developers who have already developed their application and look at the next-generation hardware platform from various chip vendors, or try to migrate into a more cost-efficient chip platform, they need to spend development time to port previous applications to the new chip platform and new devices.
IAR solution is able to help easily and smoothly migrate your code and applications onto new devices.
Easy code and application migration
cost efficiency
time saving
Product overview
By enabling the late-stage security application with IAR, you will easily get device unique information protected from being used in other devices.
Protect IPs and manufacturing
IAR Embedded Secure IP product bundle with IAR Secure Deploy will assist you to protect your device development and manufacturing, saving time and cost.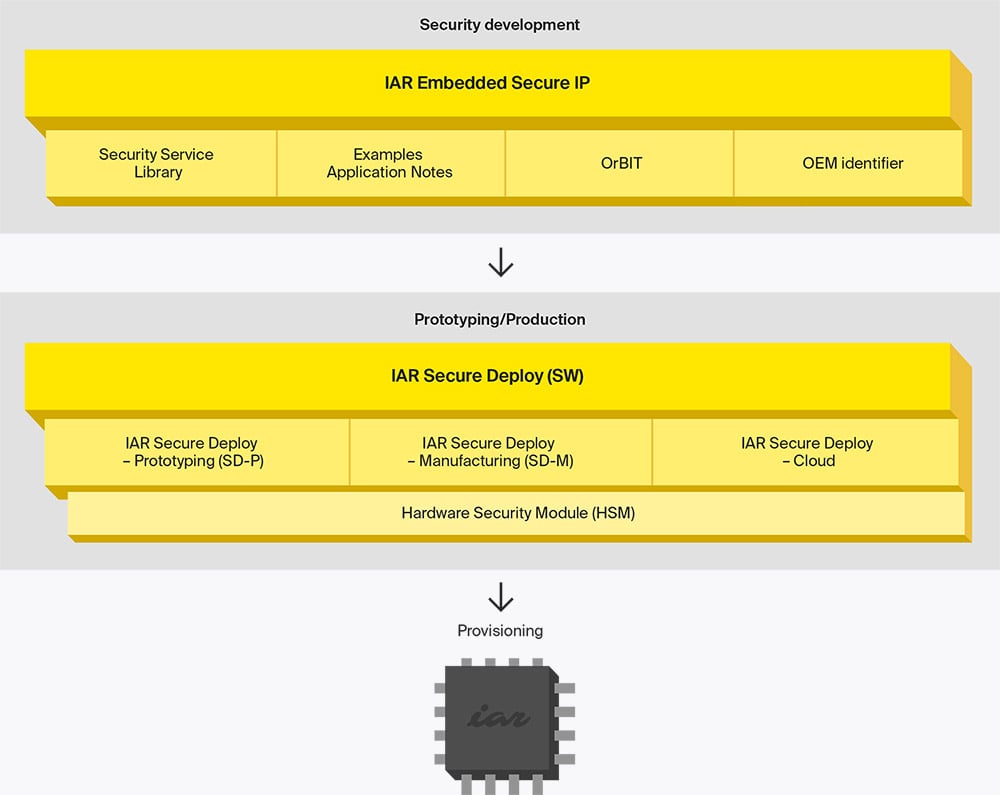 Flexible chip platform switching
There is a challenge for engineers to re-write codes and discard development designs when there comes to changes in using different MCU vendors.
With IAR solution, you will have easy access to a wide range of MCUs with a consistent framework and development design without doing changes.
Supported devices
Our security tools and services offer support for a wide range of devices, including Arm-based MCUs (eg. Arm Cortex-M0+, -M23, -M33, -M4, and -M7) as well as the Renesas RX MCU family devices, enabling you to choose the right MCU for the security and functional needs of your application. Please contact us to inquire other device support.
Get quote
Want to use this product in your development projects? Our sales team is here to guide you to the right solution for you. Complete this form and we will get back to you with a price quote tailored for your needs. We look forward to your request!
Want to know more?
We are present worldwide to help you wherever you are, and we are happy to answer any questions you might have about our products.