IAR Embedded Secure IP
Enabling the rapid upgrade of existing products with unique and flexible security at any point in the design, up to production and manufacturing.
01
Anti-cloning
Enable unique identification for both software applications and device hardware. This helps to prevent counterfeiting while also providing encryption for your manufacturing processes.
02
Active IP protection
Ensuring the security of your intellectual properties such as applications, libraries, and other assets by providing encryption that guarantees safe device access.
IAR's Embedded Security in Visual Studio Code
Discover how IAR Embedded Secure IP enables secure provisioning and programming of your embedded systems at scale. Its compatibility with any IDE and compiler allows easy integration with your existing toolchain, such as Visual Studio Code Extensions and CMake.
Ready to experience the robust IP protection and product cloning prevention of IAR Embedded Secure IP for yourself? Download our evaluation software now to get started.
End User Benefits of IAR Embedded Secure IP
1
Flexible security design for late-stage development
Developers can enable security functions even after they have finished the previous development stage. They do not need to change the previous design and code.
2
Less memory requirements to input code
Small-footprint devices with a tiny memory is enough for developers to enable security functions.
3
Integration with 3rd party libraries and secure boot management
If developers already have 3rd libraries and secure boot management mechanisms, they do not need to change but directly apply security functions with IAR.
4
Secure manufacturing with zero-trust
Device brands can secure all programming processes even if they choose zero-trust manufacturers to execute device provisioning.
Secure your device development and manufacturing
Protecting device security during development and manufacturing is crucial. The IAR Embedded Secure IP bundle with IAR Secure Deploy can make the process more efficient. Discover their key features and benefits in our infographic for time and cost savings while ensuring device security.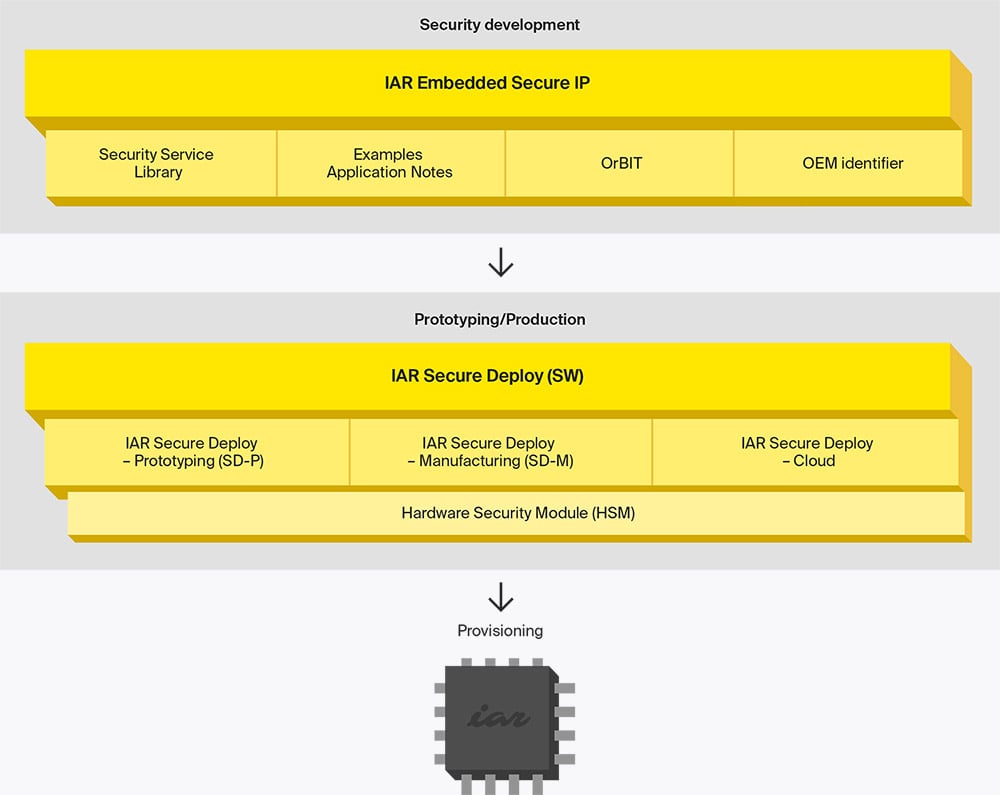 Get quote
Want to use this product in your development projects? Our sales team is here to guide you to the right solution. Complete this form, and we will get back to you with a price quote tailored to your needs.
Want to know more?
We are present worldwide to help you wherever you are, and we are happy to answer any questions you might have about our products.