I-jet Trace for Arm Cortex-M
Arm Cortex-M用デバッグおよびトレースプローブで、IAR Embedded Workbenchの強力な機能を使用可能に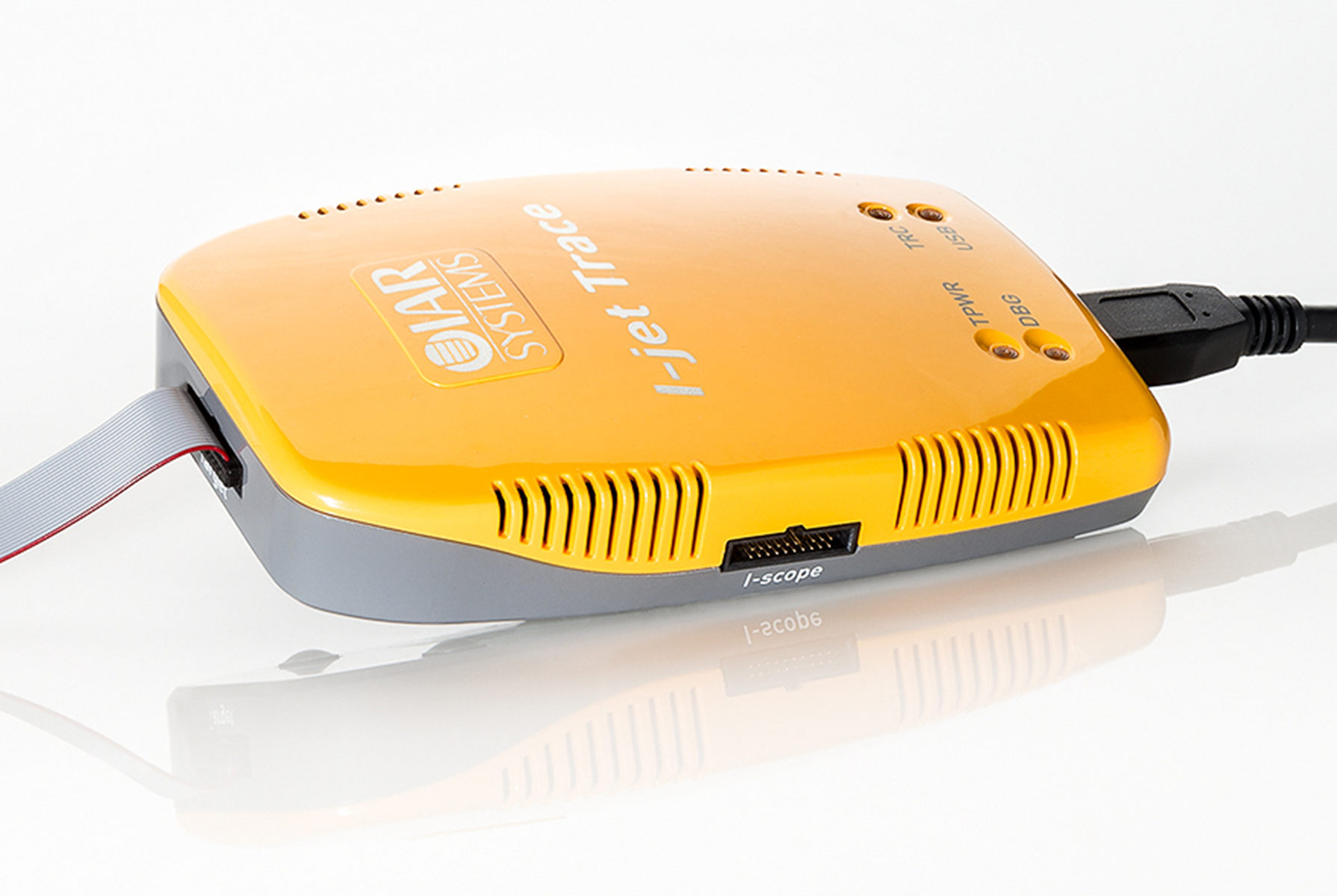 01
広範なデバッグ機能
統合開発ツールが開発ワークフローを簡素化します!IARの高機能インサーキットトレースデバッグ用プローブを使えば、IAR Embedded Workbench for ARMの強力な機能を存分に使えるようになります。Embedded Trace Macrocell (ETM)に対応しているので、タイムラインでのアプリケーションのコールスタックグラフはもちろん、コードカバレッジやプロファイル機能もフルに活用できます。
02
クラス最高の処理能力
I-jet Trace for Arm Cortex-Mは、JTAGおよびSWD/SWO経由の高速デバッグプラットフォームを提供します。最大ダウンロード速度3.73 MByte/秒で、200MHzまでのSWOクロック速度に対応。JTAGおよびSerial Wire Debug (SWD)のクロック速度は最大100MHz。MCUクロック速度には制限はありません。
03
広範なArm Cortex-Mデバイスサポート
自動コア認識とJTAG/SWD検出により、すべてのシリコンベンダのあらゆるArm Cortex-Mコアをサポート。Embedded Trace Macrocell (ETM)のトレース機能を完全にサポートします。
04
豊富なトレース機能
I-jet Trace for Arm Cortex-MはSuperSpeed USB 3.0インタフェースを備えており、プローブからC-SPYデバッガに5Gbpsでデータを転送します。プローブのトレースメモリサイズは、要件に応じて64Mbyteまたは256Mbyteをお選びいただけます。トレースデータは1、2または4ビット幅、150MHzのETM トレースクロック、CPUサイクル精度64ビットタイムスタンプで収集できます。コードカバレッジおよびプロファイルのためのストリーミングトレース機能も内蔵しています。
Details and probe comparison
Specifications
General
I-jet
I-jet Trace CM L
I-jet Trace CM XL
I-jet Trace Arm
USB connection
High Speed USB 2.0
SuperSpeed USB 3.0
SuperSpeed USB 3.0
SuperSpeed USB 3.0
USB speed
480 Mbps
5 Gbps
5 Gbps
5 Gbps
Powered through USB
✔
✔
✔
✔
Maximum target power (5V) supplied
400 mA
400 mA
400 mA
600 mA
First supporting version of IAR
Embedded Workbench for Arm
6.30.8
7.30.3
7.80.1
7.70.1
Included adapters
| | | | | |
| --- | --- | --- | --- | --- |
| | I-jet | I-jet Trace CM L | I-jet Trace CM XL | I-jet Trace Arm |
| MIPI-10 | ✔ | ✔ | ✔ | ✔ |
| MIPI-20 | ✔ | ✔ | ✔ | ✔ |
| Mictor-38 | | | | ✔ |
Optional adapters
| | | | | |
| --- | --- | --- | --- | --- |
| | I-jet | I-jet Trace CM L | I-jet Trace CM XL | I-jet Trace Arm |
| MIPI-20 to ARM-20 | Available | Available | Available | Available |
| MIPI-20 Isolated (ETM not supported) | Available | Available | Available | Available |
Core support
| | | | | |
| --- | --- | --- | --- | --- |
| | I-jet | I-jet Trace CM L | I-jet Trace CM XL | I-jet Trace Arm |
| Arm7/Arm9/Arm11 | ✔ | ✔ (no ETM trace) | ✔ (no ETM trace) | ✔ (no ETM trace) |
| Arm Cortex-M | ✔ | ✔ | ✔ | ✔ |
| Arm Cortex-R | ✔ | ✔ (1/2/4 bit ETM trace only) | ✔ (1/2/4 bit ETM trace only) | ✔ |
| Arm Cortex-A | ✔ | ✔ (1/2/4 bit ETM trace only) | ✔ (1/2/4 bit ETM trace only) | ✔ |
Interfaces
| | | | | |
| --- | --- | --- | --- | --- |
| | I-jet | I-jet Trace CM L | I-jet Trace CM XL | I-jet Trace Arm |
| JTAG | ✔ | ✔ | ✔ | ✔ |
| SWD | ✔ | ✔ | ✔ | ✔ |
| cJTAG | ✔ | ✔ | ✔ | ✔ |
| SWO UART/Manchester encoding | ✔ | ✔ | ✔ | ✔ |
| Target debug I/O voltages supported | 1.65V to 5.5V | 1.2V to 5V | 1.2V to 5V | 1.2V to 5V |
Trace features
| | | | | |
| --- | --- | --- | --- | --- |
| | I-jet | I-jet Trace CM L | I-jet Trace CM XL | I-jet Trace Arm |
| ETM trace buffer | | 64 MB | 256 MB | 256 MB |
| Trace data collection | | 1,2, and 4-bit | 1,2, and 4-bit | 1,2,4,8 and 16-bit |
| Maximum ETM trace clock | | 150 MHz | 150 MHz | 350 MHz |
| Maximum ETM bandwidth | | 1.2 Gbps | 1.2 Gbps | 11.2 Gbps |
| Automatic clock/data skew adjustment | | ✔ | ✔ | ✔ |
| Automatic clock/data threshold adjustment | | | | ✔ |
| ETB/MTB Trace support | ✔ | ✔ | ✔ | ✔ |
Performance
| | | | | |
| --- | --- | --- | --- | --- |
| | I-jet | I-jet Trace CM L | I-jet Trace CM XL | I-jet Trace Arm |
| JTAG/SWD speed | 48 MHz | 100 MHz | 100 MHz | 100 MHz |
| SWO sampling frequency | 96 MHz | 200 MHz | 200 MHz | 200 MHz |
| SWO max. bandwidth | ~30 Mbps | ~60 Mbps | ~60 Mbps | ~60 Mbps |
| Download speed (RAM) | 1.89 MByte/s | 3.73MByte/s | 3.73 MByte/s | 3.73 MByte/s |
| Power sampling resolution | ~160 µA | ~160µA | ~160 µA | ~160 µA |
| Power sampling rate | 200 ksps | 200 ksps | 200 ksps | 200 ksps |
Functionality
| | | | | |
| --- | --- | --- | --- | --- |
| | I-jet | I-jet Trace CM L | I-jet Trace CM XL | I-jet Trace for Arm |
| Automatic core recognition | ✔ | ✔ | ✔ | ✔ |
| Code breakpoints | ✔ | ✔ | ✔ | ✔ |
| Data breakpoints | ✔ | ✔ | ✔ | ✔ |
| Flash breakpoints | ✔ | ✔ | ✔ | ✔ |
| Interrupt logging | ✔ | ✔ | ✔ | ✔ |
| Data logging | ✔ | ✔ | ✔ | ✔ |
| Call stack trace | With ETB | ✔ | ✔ | ✔ |
| Cycle counter (For Cortex-M devices) | ✔ | ✔ | ✔ | ✔ |
| Code coverage | Sampled/Full with ETB/MTB | Full | Full | Full |
| Function profiling | Sampled/Full with ETB/MTB | Full | Full | Full |
| Instruction trace | Limited with ETB/MTB | Full | Full | Full |
製品の詳細をお知りになりたいですか?
グローバルに展開するIARが世界各地のお客様をサポートします。製品に関するお問い合せには、常時お答えしています。
製品/見積もりに関する問い合わせ
製品に関するお問い合わせや見積もりのご依頼は、以下のフォームに必要事項をご記入の上、送信ボタンをクリックしてください。 *は必須項目となっています
Additional information
CE and RoHS compliance
Our debug probes I-jet, I-jet Trace and I-scope are in compliance with:
CE: EMC Directive 2014/30/EU on the following test standards for IT product:
EN 55022:2010/AC:2011, EN 61000-3-2:2014 & EN 61000-3-3:2013
EN 55024: 201++A1:2015
CE: RoHS 3 Directive (EU) 2011/65/EU of the European Parliament and of the Council of 8 June 2011 on the restriction of the use of certain hazardous substances in electrical and electronic equipment, including all applicable amendments—Directive (EU) 2015/863
FCC: the requirements of 47 CFR Part 15 regulation & ANSI C63.4 for the evaluation of Class A of electromagnetic compatibility.
Regulation (EC) No 1907/2006 of the European Parliament and of the Council of 18 December 2006 concerning the Registration, Evaluation, Authorization and Restriction of Chemicals (REACH).
Regulation (EC) No 850/2004, (EU) No 519/2012 of the European Parliament and of the Council on Persistent Organic Pollutants (POPs )
US provision to the Wall Street Reform and Consumer Protection Act (ref: Dodd-Frank Act 1502 on conflict minerals)
SJ/T 11363-2006 for Management Methods for Controlling Pollution by Electronic Information Products (China RoHS)
Directive 2012/19/EU of the European Parliament and of the Council of 4 July 2012 on Waste Electrical & Electronic Equipment (WEEE)
We keep working together with our partners and suppliers to fulfill our responsibility to ensure our are products in compliance with the above directives, regulations and requirements.
Connectors and adapters
I-jet and I-jet Trace has a MIPI-20 connector on the front panel and come with MIPI-20 and MIPI-10 cables. For I-jet Trace, only the MIPI-20 cable supports the ETM trace functionality, and MIPI-10 is for plain JTAG/SWD/SWO debugging. For details on the connectors, see the user manual.
In addition, the following adapters are available from IAR to fit different target connectors:
| | |
| --- | --- |
| ADA-MIPI20-ISO Adapter | |
| ADA-MIPI20-ARM20 | |
| ADA-MIPI20-RISCV12 | |
| ADA-MIPI20-RISCV24 | |