Apexbio
IAR Embedded Workbench has shortened the development time for APEXBIO Technology

Using IAR Embedded Workbench for a wide range of products
APEXBIO has been using IAR Embedded Workbench for developing many different products: Blood glucose, blood ketones, galactose, cholesterol, triglycerides, lactic acid meters, etc. for home or professional use, as well as different combinations of these products.
APEXBIO has been using IAR Embedded Workbench since 2004 and from IAR Embedded Workbench MSP430 all the way to current IAR Embedded Workbench for Arm. IAR Embedded Workbench is a well-known build and development tool that meets all APEXBIO development needs.
- APEXBIO employee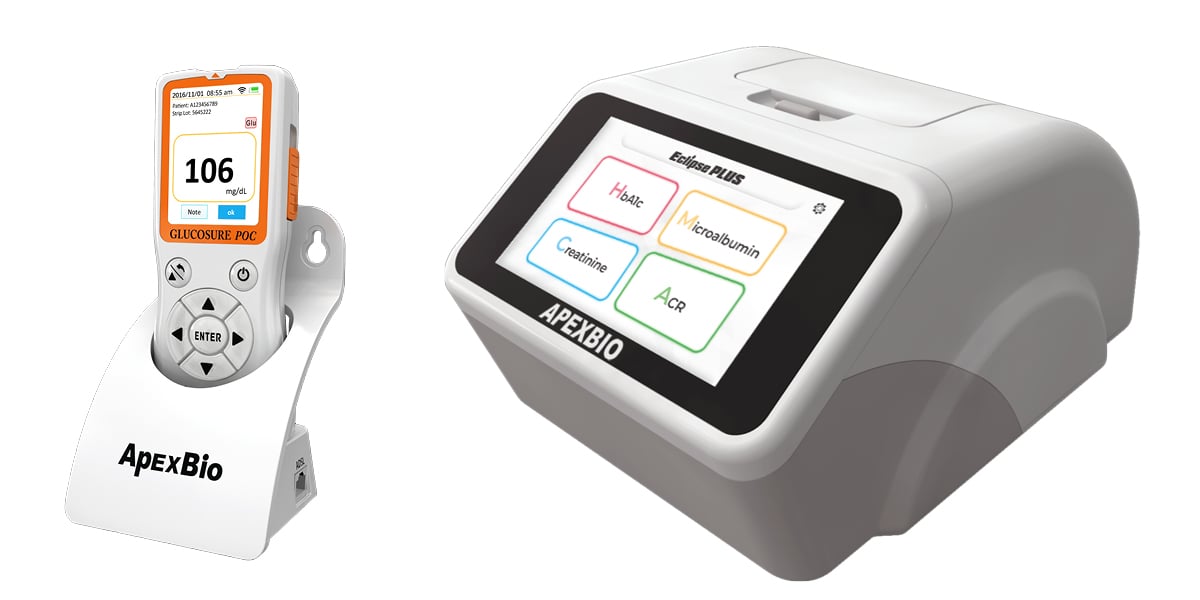 As the pioneer in biosensor technology, APEXBIO was established in the Hsinchu Science-based Industrial Park in Taiwan in December 1997. APEXBIO successfully became the first IPO (stock market launch) biotechnology company in 2000. APEXBIO has been using IAR Embedded Workbench since 2004.
APEXBIO is recognized by international and regional publications as one of the top medical device company in Taiwan. The main products are sold over 80 countries worldwide, solidifying their position as a leading provider of biosensor-based blood glucose monitoring systems for home care, medical device for chronic disease patients to maintain and control their health or for professional use in hospitals and laboratories.
APEXBIO was founded to develop into a full range of in vitro diagnostics (IVD) company and is actively engaged in the research, development, manufacture and sales worldwide. At the beginning, they used biosensor technology to develop a self-testing handheld blood glucose monitoring systems, uric acid, hemoglobin, cholesterol, lactate, HbA1c, ketone, coagulation and multifunctional self-testing systems. Now, their products are approved by CE, FDA, TFDA, CFDA, PMDA, and their manufacturing facilities are notified by Taiwan GMP (Good Manufacturing Practice), ISO 9001 & 13485, FDA, and CMDCAS.
APEXBIO have long-term cooperation with many manufacturing companies, and they are dedicated to become a leading IVD company and a total solutions provider in the healthcare industry.
There are several reasons why APEXBIO chose to go with IAR Embedded Workbench:
In combination with the device of major manufacturers, any problems encountered during development, IAR Systems service will provide fast and correct solutions, shortening the development time.

APEXBIO employee comments:
"We have done an internal survey and the estimated development time is shortened from 10%-30% compare to other big names or GCC compiler."


APEXBIO have noted that IAR Embedded Workbench has a better build code ability than other general IDEs, which improves the efficiency of development.


APEXBIO uses different versions of IAR Embedded Workbench including IAR Embedded Workbench for Arm, for MSP430 and for STM8. They also use the functional safety edition of IAR Embedded Workbench for Arm.
Having the same interface to develop different MCU saves developer a lot of effort. We also chose to upgrade to a functional safety version because all medical devices developed by APEXBIO comply with IEC62304 regulations and we needed tools matching these requirements too.
- APEXBIO employee