Packet loss in network, affects licenses
Technical Note 42725
Updated:
11/6/2015 10:37 AM
Introduction
Earlier versions stopped immediately with an error Status code 0x03 if a client doesn't manage to reach the server.
Later versions tries several times before giving up, which is good news if you have packet losses in your network.
Typical error
Fatal error[LMS001]: Failed to obtain feature: "R32C.EW.COMPILER_STD" version: "1.00".
Failed to resolve the server host. Status code 0x3. [LicenseCheck:IP_ADDRESS, RMS:8.5.0.0021, Feature:R32C.EW.COMPILER, Version:1.00]
Fatal error detected, aborting.
Solution for some versions
There is an environment variable IAR_LMS2_WAIT_FOR_LICENSE that can be set on the client computer which makes some releases try more than once.
On the command line it is done as set IAR_LMS2_WAIT_FOR_LICENSE=YES. Below you have a picture showing what it looks like in the Windows dialog.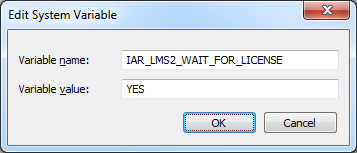 These releases have good use of that variable:
430
R32C
8051
78K
ARM
RX
AVR
STM8
RL78
RH850
ARM-FS

V5.51.6
V1.40.3
V8.20
V4.80
V6.50
V2.41
V6.20
V1.40
V1.30
V1.10
V6.50.4
Releases that are too old and will always give the error:
8051
V850
RL78
RX
430
R32C

V8.11
V3.81
V1.20
V2.40
V5.51.1 to V5.51.5
V1.40.1 and V1.40.2
Releases with the License Manager 2.13.1 and higher (releases after April 2013) has the wanted functionality built in.
All product names are trademarks or registered trademarks of their respective owners.